---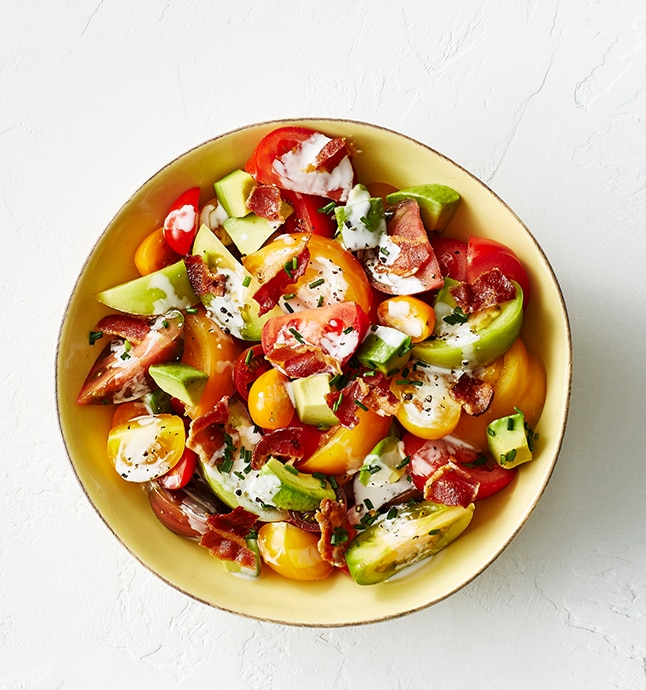 Avocado-Tomato Salad with Bacon and Blue Cheese
Active:

20 min

Total:

30 min

Serves:

6 (plus extra dressing)
3/4 cup crumbled blue cheese
½ cup sour cream
⅓ cup buttermilk
1 tablespoon white wine vinegar
1 small clove garlic, smashed
2 to 3 dashes Worcestershire sauce and/or hot sauce
1 tablespoon chopped fresh parsley
Kosher salt and freshly ground pepper
2½ pounds assorted tomatoes, halved or cut into wedges if large
4 slices thick-cut bacon
1 avocado
Juice of ½ lemon
2 tablespoons chopped fresh chives or scallions
1. Make the dressing: Puree ½ cup blue cheese, the sour cream, buttermilk, vinegar and garlic in a blender. Transfer to a bowl and stir in the remaining ¼ cup blue cheese, the Worcestershire sauce and/or hot sauce and the parsley. Season with salt and pepper. Refrigerate until ready to use.
2. Put the tomatoes in a large bowl and sprinkle with ½ teaspoon salt and a few grinds of pepper; set aside until juicy, about 20 minutes.
3. Meanwhile, cook the bacon in a large skillet over medium heat until crisp, turning, about 8 minutes. Transfer to a paper towel–lined plate and let cool slightly, then crumble into bite-size pieces.
4. Pit and peel the avocado; cut into ½-inch pieces and toss with the lemon juice in a large bowl. Add the tomatoes and gently toss. Drizzle with 1 cup of the dressing and top with the bacon and chives.